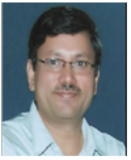 Dr. S. B. Deosarkar
PRESENT POSITION:I/C Registrar, Dr Babasaheb Ambedkar Technological University, Lonere, Tal. Mangaon, Dist. Raigad, M.S. India (From 8th December 2016)
Email: registrar@dbatu.ac.in
Dr. Shankar Baburao Deosarkar
Professor , Deptt.of Electronics and Telecom.Engineering
Dr. Babasaheb Ambedkar Technological University,Lonere Dist Raigad , Konkan
Maharashtra State Pin Code 402 103
sbdeosarkar@dbatu.ac.in Cell No.9423140516
Date of Birth: 2 June 1965
Academic Qualifications :
M E ,Ph.D ( Microwave Communication) from SGGSCE&T, Nanded(2004)
First Founding Faculty Member of BATU :
Dr.Babasaheb Ambedkar Technological University,Lonere (BATU) is established during 1989, and I am so fortunate to be a first founder faculty member of BATU. Since 1989-90,over the time of 30 years I have seen transforming the campus with 40 students as an Unitary Status of BATU to the present Affiliating Status with more than 35,000 students in 2019.So Being first faculty member I got an opportunity to shoulder all kinds of academic and administrative responsibilities at the university campus ,begins from land acquisition.I have seen instituting various UG ,PG,Doctorate Programs and various National and International academic linkages at BATU Lonere.
Since I joined the university in its infancy I have myself grown with it. Starting from a post of Lecturer I have served the university in different capacities like Head of the Department, Controller of Examinations at BATU, Principal at SP Pune University and now a full Professor at BATU.At all these level I have discharged my duties with full of academic sincerity. I have always kept the development goals of the university ahead of personal development knowing its future expansion very well.
Academic and Administrative Experience :
Experience in the field of Higher Education during last 30 years in Teaching and Research and Administration in a university at Graduate and Post Graduate Level
Professor and Head of the University Department at BATU for more than 15 years
Controller of Examinations of BATU for 15 Years
Principal of Engineering College in Pune University for 5 years
Post Graduate Trainee at Society for Microwave Electronics Engineering and Research, SAMEER,IIT Powai Campus ,Mumbai for six months during 1989.
Registrar (In-Charge) of BATU Lonere (Appointment 19 th January 2019 )
Experience of working on the Statutory Authorities of university
Member of Academic Council of BATU Lonere ( 2001-2010) and Pune University (2012-2015)
Member of Executive Council of BATU Lonere ( 2002-2007 )
Chairman BoS in Electronics and Telecom.Engg. at BATU Lonere (1995-2010) ,and Pune University (2012-2015)
Member of BoS, Electrical and Electronics Comm. ,MIT Pune ( 2017-2020) and BATU Lonere( 2015 to till date )
Member of : University Affiliating Cell ( 2016 to till date) , University Boards of Deans ( 2018 to till date) University Boards of R&D ( 2018 to till date ) and Member of statutes and Finance Committee of BATU Lonere
Research Area : Antenna and Microwave Communication, Micro-Strip Antenna and, Antenna Array Design, Electromagnetic Interference and Compatibility,EMI EMC , RF Communication Engineering
Research Guide :Successfully Guided 06 Ph.D Research Scholars till date and at Present 06 Research Scholars are working in the area of Microwave Communication and Antenna Designs
Book Chapter Publications ::
Radar, and Wave Propagation in ACTA Press A Scientific and Technical Publishing
EM Field,Microstrip Antenna Designs in World Scientific Pub. and IEEE, Explore
Internet Computing and Information Communications in Springer Nature Link
Research Publications :
Publications at National Journals : 07 International Journals : 24
National Conferences : 35 International Conference : 42
Research Project Grants : Received grant of More than 1.5 Crores As a Chief Co-Ordinator for various Research and , MODROB Projects funded by AICTE, MHRD and State Govt. Of Maharashtra as well Co-ordinated and Conducted several Workshops and National & International Conferences at the University and its affiliating colleges.
Recipient of INDO-US Eminent Educationalist award by INDUS Foundation ,New York ,for contributions in Higher Education during the year 2012-13
Research Presentations at International Level during last 10 years
: : Nanyang Technological University,Singapore : : Princeton University ,USA
: : National University ,Singapore : : University of Montreal ,Canada
: : Michigen Tech. University,Houghton USA, : : NC State University, Raleigh,USA
: : Lawrence Tech.University ,Michigan State, USA
: : Research Centre of Electromagnetic Centre , IEEE Chapter, Toronto , Canada ,
National and International Exposure during last 10 years : Taken active Initiative for signing MoUs for Research, Faculty and Student Exchange Programs and Modernization of Laboratories
IIT Mumbai , IIT Chennai, SAMEER IIT Powai ,Mumbai Campus and COEP Pune
University of Czech Republic ,Prague ( Faculty and Student Exchange Program)
Department of Nuclear Science and Engineering,North Carolina State University, Raleigh, USA
Department of Mechanical Engineering , Michigan Tech.University , Houghton ,USA
Laurence Tech. University ,South Field, Michigen State, USA
Academic Visit to Industrial Research Laboratory , Cologne , Germany
Selected for MHRD's Flagship Program on Leadership Development at University of Michigen ( March 2019)
Institute Project Director for TEQIP World Bank Project ( for the duration 2017-2020 )
At present I am full Professor and working as a TEQIP World Bank, Institute Project Director, IPD at the University and Mentoring Universities from the focused states for twinning arrangements namely Uttaranchal Technical University , Dehradun Abdul Kalam Technical University,Lukhnow, Himachal Pradesh Technical University,Hamirpur.(Project cost of worth Rs. Seven Crores at BATU and around Rs. 66 Crores at Twinning Universities, : Duration of the Project 2017-2020).
Good Academic Connect with Industries,Higher Learning Institutes and Scientific Laboratories
I have good connect with the Institutes of Higher Learnings Viz.IITs,IISc, IISERs, IIMs, NITs , CME,DIAT Pune ,COEP Pune, BARC,Homi Bhabha Institute of Science Education ,HBCSE Mumbai and Scientific laboratory's ,TIFR , NCL , DRDO , SAMEER and industries via MICCA Chambers of Commerce Pune, ,Deccan Chambers of Commerce ,Pune and Confederation of Indian Industries CII, MUMBAI, Association of Indian Universities, AIU and Association of Common Wealth Universities,UK ,ACU.
BATU CAMPUS , 21 st January , 2019 S B DEOSARKAR