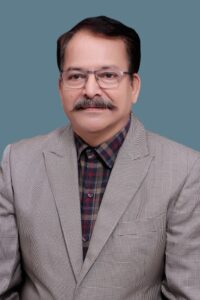 Dr. Karbhari Vishwanath Kale
Vice-Chancellor of Dr. Babasaheb Ambedkar Technological University,
Dr. Karbhari Vishwanath Kale, Senior Professor of Computer Science & Information Technology worked as Director, Board of College and University Development (BCUD) of Dr. Babasaheb Ambedkar Marathwada University, Aurangabad, Maharashtra. He was Head of the Department of Computer Science and IT at the university for more than 9 years. He also served as Director of University Network & Information Center (UNIC) of Dr. BAMU, Aurangabad. He has acted as President of the ICT Section of the Indian Science Congress Association, Kolkata in the year 2015-2016 under the Ministry of Science & Technology, Government of India. He had served on various state-level committees like Perspective Development Plan, Rashtriya Uchchatar Shiksha Abhiyan (RUSA), Higher Education Policy, New University Act, Higher and Technical Education, Government of Maharashtra. He served as coordinator of the Monitoring and Evaluating Committee of the Avishkar Research Program organized by the Governor of Maharashtra.
He is a pioneer of Multimodal Biometrics and Remote Sensing Data Analysis in the region and has established & developed state-of-art Multimodal Biometrics Research Laboratory (MBRL) as a unique Laboratory of International standards. He has also established research laboratories of Geospatial Technology, Big Data Analytics, Artificial Intelligence, Machine Learning, and Pattern Recognition Technology. He has also developed excellent amenities for research in biometrics and advanced Image processing technology in the university. He has more than 32 years of experience in research, innovation, and teaching at the UG, PG, and Ph.D. levels. He has published more than 364 National and International research articles, 06 books, and 23 book chapters. He has recently been granted 02 Australian patents and has published 8 Indian patents. He has delivered a number of plenary lectures, invited talks, and chaired sessions at symposia, workshops, national & international conferences. He has successfully supervised Ph.D. candidates in the faculty of Computer Science and Information Technology, Computer Science and Engineering. He has also supervised M. Tech. Computer Science and Engineering Technology students in the specialized area of Geospatial Technology, Artificial Intelligence, Machine Learning, etc.  His area of research includes Remote Sensing and GIS, Image Processing, Pattern Recognition, Computer Vision, Software Engineering, Artificial Intelligence, Neural Networks, Big Data Analytics, the Internet of Things (IoT), etc.
Professor Karbhari Kale is Editor in Chief, Editor, Reviewer of various International, National Journals. He has mobilized the research fund of crores from various funding agencies like DST, UGC, RUSA, Media Lab, etc. for augmenting and establishing an excellent research laboratory in the university through Major Research Projects and played a key role to mobilize crores of grants to the University R&D Projects and schemes. He has successfully completed various research and development projects. He has developed a multimodal biometric recognition system and technique of spectral signature of remotely sensed data in the domain of geospatial technology.
Professor Kale has several academic honors and professional distinctions to his credits. To name the few, Finalist ICT Researcher of The Year 2016 ACS Australia, VIJAY SHREE Award, One Time Research Fellowship, excellent paper Award at Paris, Research Professor Award for the year 2016-17 by Dr. Babasaheb Ambedkar Marathwada University Aurangabad for his excellent work in the research domain, Top 100 Professionals 2017, International Biographical Centre, Cambridge, England. He has served on various bodies and authorities of the university like Senate Member, Management Council Member, Academic Council Member, BOS & RRC's chairman, BCUD member, etc.  He has also been working on various statutory authorities of other universities, in different capacities such as Chairman and Member. He is also a fellow, life member, and member of a number of international organizations like International INNS-IEEE, OGC, IACSIT, IAENG, Signal Processing Society, Communications Society, Computer Society, Geoscience and GRSS, Green-ICT Community, IoT Community, Life Sciences Community, and national organizations like CSI, IPA, IUPRAI, ISCA, SIGAI, C-DAC, IAO, and many more. He is a fellow member of IETE and SSARSC and served for IETE as Chairman of Aurangabad Center.
Professor Karbhari Kale is a multidimensional personality, a hardcore and visionary academician, researcher, who has worked in multiple capacities in administration.  He works with the mission of 'ICT for Society'.