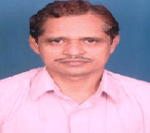 Associate Professor
B. E. (CE), Walchand College of Engineering, Sangli,
M. Tech. (CE), Dr. B.A.T.U., Lonere.
Ph. D. (Pursuing) S. G. G. S. Institute of Engineering & Technology, Nanded
Phone No:9422051954
Email:srsutar@dbatu.ac.in, srsutar@yahoo.com
Research Interests:
• Scheduling
• Evolutionary Algorithms
Paper Published:
• International Journals: 01
• International Conferences: 05
• National Conferences: 05
• National Journals: 01
Selected Publications: (Published in Refereed International Journals)
Sanjay R. Sutar, Dr.R.S.Bichkar, "University Timetabling based on Hard Constraints using Genetic Algorithm", International Journal of Computer Applications (0975 – 8887) Volume 42– No.15, March 2012.
Recently Taught Courses:
UG- Computer Algorithms, Object Oriented Programming, Internetworking Protocols, Information Security.
PG- Applied Algorithms, Genetic Algorithms.
Membership of Professional Bodies:
Life Member of ISTE.
Other Responsibilities:
1. Coordinator, RailTel Internet Facility.
2. Coordinator, TEQIP Institutional Reforms Committee.
3. Member, Board of Studies, Department of Information Technology.