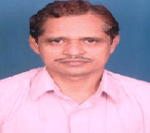 Present Position: Associate Professor & Head
Department of Information Technology
Qualifications: B.E. (CE), Walchand College of Engineering, Sangli, M. Tech. (CE), Dr. B.A.T.U., Lonere.
PhD ,S.R.T.M University, Nanded
Phone No:9637827636; 9422051954
Email:srsutar@dbatu.ac.in, srsutar@yahoo.com
Research Interests:
• Scheduling
• Evolutionary Algorithms
Paper Published:
• International Journals: 05
• International Conferences: 06
• National Conferences: 05
• National Journals: 01
Recently Taught Courses:
UG- Computer Algorithms, Object Oriented Programming, Internetworking Protocols, Information Security.
PG- Applied Algorithms, Genetic Algorithms.
Membership of Professional Bodies:
Life Member of ISTE.
Other Responsibilities:
1. Coordinator, University Time Table & Academic Calendar.
2. Coordinator, TEQIP Institutional Reforms Committee.
3. Member, Board of Studies, Department of Information Technology.